Services
Nils Landscaping specialises in designing beautiful gardens and outdoor entertainment areas in all sizes and themes according to your aesthetic tastes and lifestyle.
We make sure that our team of professional landscapers and horticulturists will work with you from project to completion, and we listen to your needs and desires, giving the assurance that we stay focused on time and within your budget.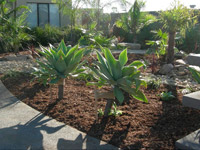 Design and Construction
In a beautiful garden, the majesty of nature is ever present and it is an artwork that uplifts the spirit. With passion and dedication, matched with expert skills and talents, we can design your dream garden to suit your vision and needs. Garden settings can be constructed or amended to suit current environmental conditions. We are happy to give expert advice and recommendations to create and build your beautiful outdoor area.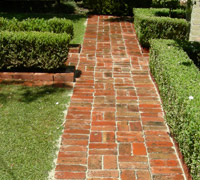 Paving
With paving you can create a clever, useful area out of a previously dead space in your yard. Clean and attractive external paving solutions will transform your driveway, swimming pool area, pathways, verandas, patios, and barbecue areas.
Using natural stone, concrete pavers or bricks, we can create that perfect environment for you. You can rest assured that we only use high quality standard materials and we give full guarantee that our work will last for many years.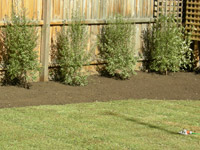 Garden Maintenance
Nils Landscaping provides complete care for your garden all year round, with an attention to detail to ensure you have a garden that you can be completely proud of. Our qualified horticulturists have more than 10years' experience, and have the passion at what they do. Whether we are maintaining your existing landscape or one that we have constructed for you, we put in place an individualised plan that is best suited to keep your garden looking healthy and beautiful with minimal fuss. Nurturing your garden is what we do best.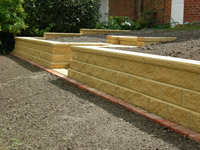 Retaining Walls
Retaining walls are a great way to elevate garden beds, creating a split-level effect and allowing multiple themes in your garden. Retaining walls are also advisable for the purpose of levelling out problematic land slopes.
A broad range of materials are available and can be used to retain or terrace levels. Whether contemporary or traditional style, natural stones or replica walling, there are many options that we can provide for you.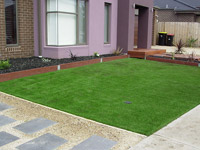 Instant Lawn
There is nothing like the look and smell of freshly cut grass to create a natural feel to your outdoor living area. It enlivens the spirit as your eyes feast on the natural green beauty all around you. Nils Landscaping can deliver easy to care for lawns that offer stunning visual appeal to suit any garden style. With a wide range of suppliers and a variety of lawn types, Nils Landscaping can lay an instant lawn that has longevity and resilience to withstand children and pets' playtime, and even our harsh Australian climate.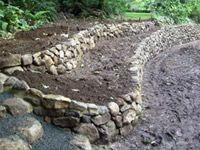 Rock Work
Rocks can be an excellent part of your outdoor garden and terraces. They can be added to any themed garden and with good design perspective, can also add beauty to any garden.
We supply and install boulders and rocks of any required size, either to border garden beds or to retain areas at different levels. Rock work can be dry stacked or installed with mortar.